Copper Basin 300 Begins
As of Jan 08 1707 AKST (GMT-0900) here are Karen's stats for the race which started today:

Bib No.
Musher
Current Checkpoint
Previous Checkpoint
Time en Route
Speed (MPH)
Layovers
Checkpoint
Time In
Dogs
Time Out
Dogs
Time at CP
Checkpoint
Time Out
8 Hr
14 Hr
10
Ramstead, Karen
Chistochina
Jan 08 1606
12
Race Start
Jan 08 1018
5:48
9.0
0:00
Current updates during the race can be found at http://www.cb300.com/updates2005.html
If you'd like to read details on each checkpoint, visit http://www.cb300.com/trail.html and here is a map provided by the race organizers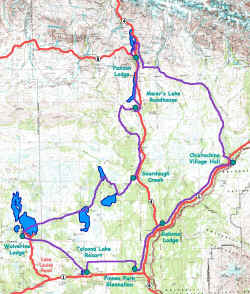 The checkpoints are:
Race Start:
Pinneo Park in Glennallen

22 miles to Gakona

Gakona Lodge (optional)

30 miles to Chistochina

Chistochina Village Hall

70 miles to Paxson

Paxson Lodge

17 miles to Meier's Lake

Meier's Lake Roadhouse

35 miles to Sourdough

Sourdough Creek

48 miles to Wolverine

Wolverine Lodge

28 miles to Tolsona

Tolsona Lake Resort

24 miles to Race Finish

Race Finish:
Pinneo Park in Glennallen
If you'd like to check on the weather conditions near Karen, visit KCAM a local radio station which is providing on air updates to the local audience http://www.kcam.org/webpages/weather.htm

From a google search on "Copper Basin 300" 2005, I was able to glean this text from the News-Miner.com site
Copper Basin 300

The field for this weekend's Copper Basin 300 sled dog race has grown to 41 entries as of Sunday and mushers have until next Friday to register for the mid-distance race that starts and finishes in Glennallen.

The entry fee is now $450 but mushers can register up until the drivers' meeting on Friday. All racers must sign in between 10 a.m. and 2 p.m. on Friday in Glennallen.

The race follows a circular route in the Copper River Valley to Paxson and back. The event starts at 10 a.m. Saturday at Glennallen's Pinneo Park and a winner is expected to arrive back in Glennallen sometime late Monday afternoon or evening.

Mushers are required to take an eight-hour layover at either Paxson or Meiers Lake and an additional 14 hours of rest at checkpoints of their choosing along the course.

Among the most recent entrants in the race were defending champion Copper Basin 300 champion, William Kleedehn, four-time Iditarod champion Martin Buser and three-time Yukon Quest champion Hans Gatt.

A complete list of entries according to the Copper Basin 300 Web site is in today's Sports Scoreboard on Page C2.
Also found a site with a nice list of Dogsledding events at http://www.out-there.com/htl_dgs.htm
The Editor