Thank You
Well, I know that those of you that have spent any time with me in person know Ė and those of you who read my ramblings on the Ďnet must suspect Ė I do love to tell stories. So it may come as a surprise to many to know that there is the odd occasion that I get tongue-tied. Biggest among them is the Iditarod Banquet, each year I plan out wonderful speeches in my head and find myself fumbling over my words at the microphone. Maybe it is because, as a long time Iditarod fan, I still find myself in awe of the fact that I am a part of this all. Maybe it is all for the best anyway, as the list of people I have to thank is so long that they would probably have to postpone the start of the Race if I ever did find my tongue.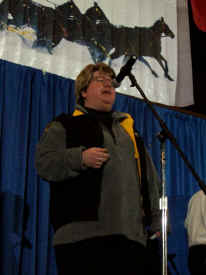 This morning I would like to take the opportunity to Ďdo it rightí. Iím a little scatterbrained this morning, so if I forget anyone on this list, it is because of that, not because I donít appreciate you.

Right off the top I have to thank

Dawne Deeley. Dawne makes no big deal out of what she does for us, but trust me - it is a big deal. She has been our biggest backer since the 2003 season. I can never thank you enough Dawne. Iíll see you in April Ė you bring THAT cheese and Iíll bring the wine. (Dawne is an owner/handler of Norwegian Buhunds & Carelian Bear Dogs).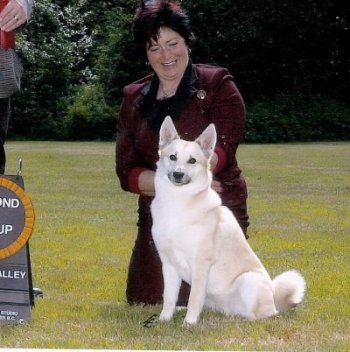 Dawne Deeley & Ch Kyons Freidige SIV
Many thanks to my most distant sponsor Ė Cudos Rigs in the UK. Iím missing your company in Alaska this year Andrew!
Also my thanks to Eagle Pet Food products and the Westlock Veterinary Clinic. Both allow us to do the very best by our dogs Ė and that is no small thing to me.
Dogbooties.com has donated all our harnesses and those terrific blankets to toss over the dogs in checkpoints. I am very grateful Louise.
Donna Finner sews up all our dog booties and bandanas Ė it is a tremendous time and financial commitment, which we are very grateful for.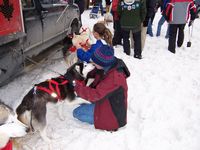 A thank you kiss to Donna F from Kara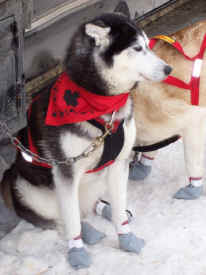 Donna's handywork on display
Huge thanks to Jamie West and Harry Banks. Not only have they opened their home to us, they have welcomed us into their lives. Far beyond what we expected guys. (Jamie is busy cooking us all breakfast as I type)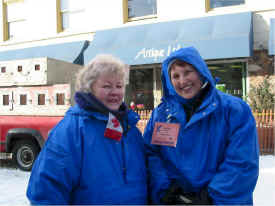 Jamie (pictured here with Karen's mother Morna)
was Karen's 2004 Idita-Rider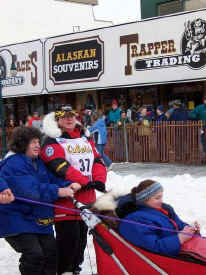 Karen, Jamie, and Sue (Karen's 2005 Idita-Rider)

Doug and Krista Grillot have basically bent over backwards for us the whole time Iíve been in Alaska. From meals to firearms to trucks to TVís Ö if they have it, we have been welcome to it. Great people and we are very lucky to have them for friends. Iíll sure miss you on the trail this year Doug. Raise a glass to me while you are sitting on that beach in Mexico.

Doug & Karen

My thanks to Ann Hernandez who will post this and a million other things to my website while Iím gone and throughout the year.

To everyone in Alaska that makes this place really feel like a second home to us. To Barb Veenstra for taking such wonderful care of our dogs and our place while we are in Alaska. You give me peace of mind Barb!

Special thanks to Shawn Sidelinger. For those of you that donít know Shawn, it is his record time with Siberians from the 1998 Iditarod that I am trying to beat

(WorkingDogWeb coverage of Shawn & Iditarod 1998). At our Open House Shawn came by and gave me his bib from that year to carry on the trail this year. Is that a cool gesture or what??? He said it worked for him in í98, maybe it can do the same for me this year. I was incredibly touched.

And to everyone else listed on my website.

Our 2005 Sponsors


Our Iditarod 2005 Sponsor-A-Dog List


Iditarod 2005 - 'Happy Feet' Sponsors

Iím afraid time doesnít allow me to retype all the names here, but all the things all of you do from cheering us on to sending money is very, very much appreciated. I know we couldnít do it without any of you.
Karen