Images by Donna Finner
(Small versions)
Thanks to Donna & Doug for taking such great pictures and for sharing with the rest of us!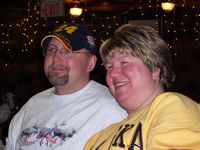 Karen and Mark at Gwennies Wednesday night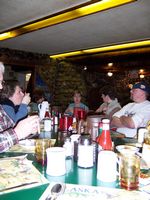 At Gwennies

THE OPEN HOUSE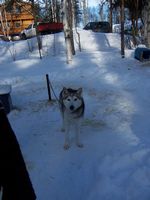 Dasher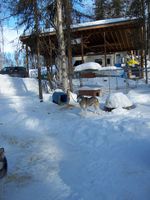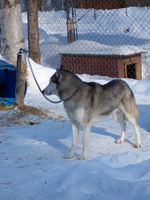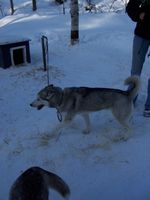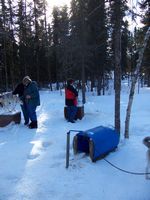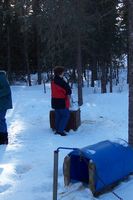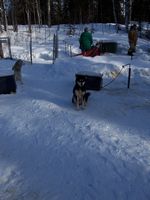 Skor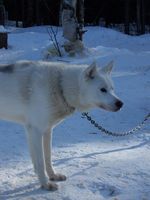 Moses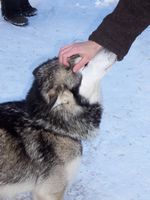 That feels good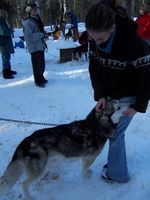 Rebecca Finner making a friend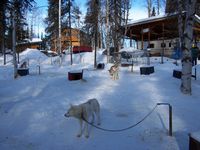 The dog yard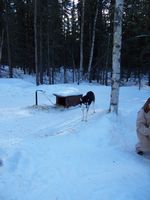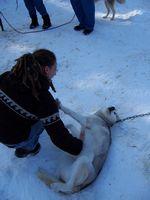 Belly Rubs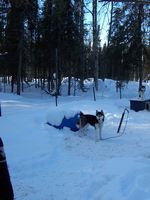 Kara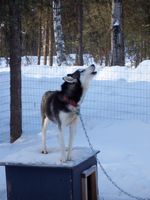 Olena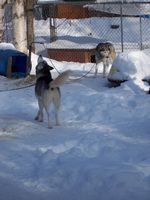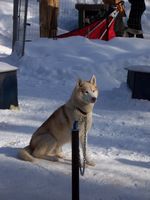 Squeaky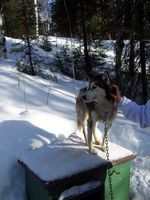 This picture and the next few are of Grover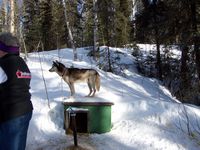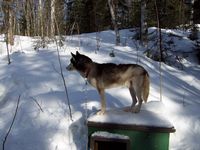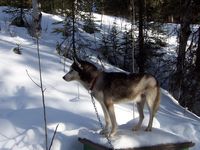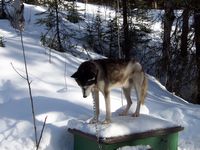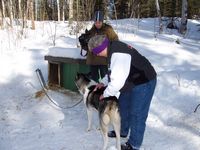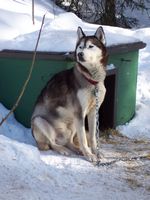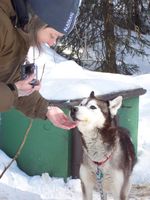 Donna Q. and Grover

THE DOG YARD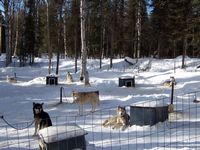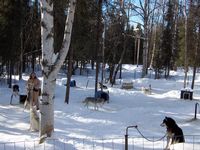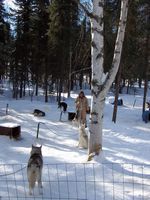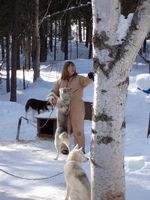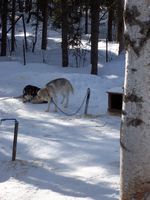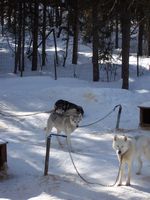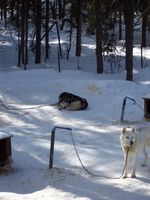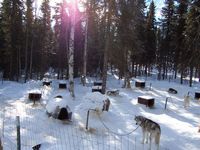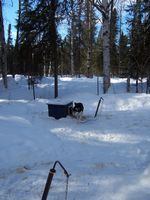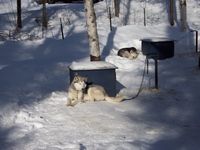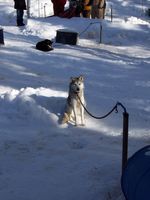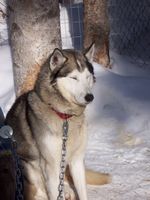 CEREMONIAL START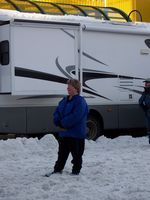 Karen posing for pics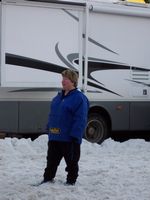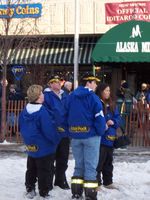 Karen and family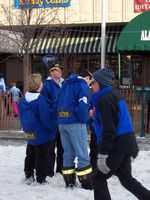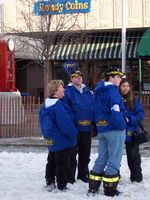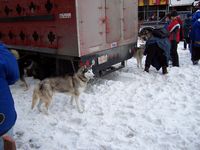 Pictures near the truck parked on 4th Ave.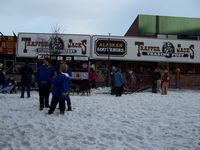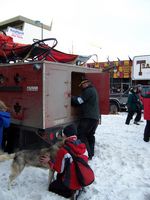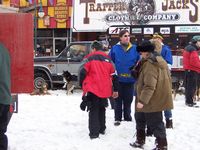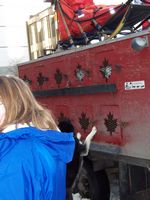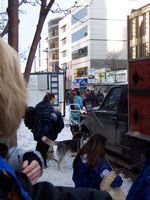 Visiting with those still in the truck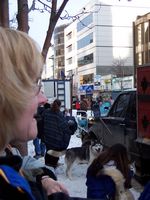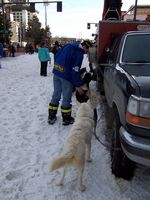 Dogs that weren't in the ceremonial start getting some time and attention on 4th ave.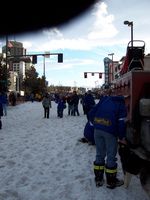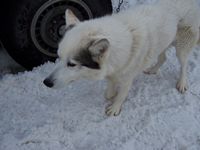 Gus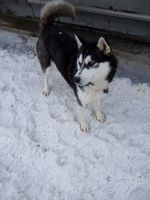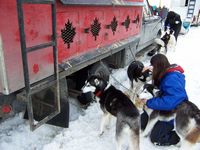 Melissa Ramstead playing with the dogs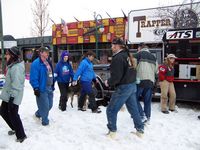 Activity on 4th ave.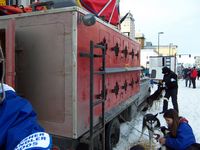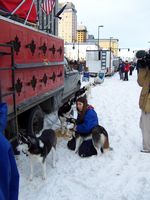 Melissa and dogs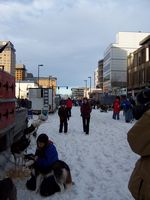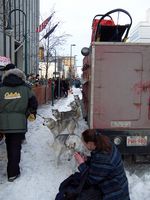 Dogs hoping for attention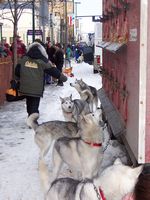 The dogs were so well behaved
They were the center of attention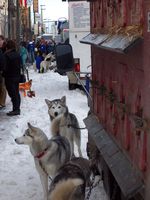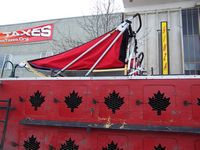 Karens sled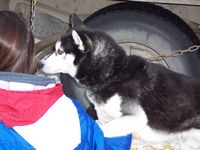 Kara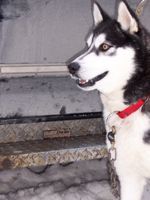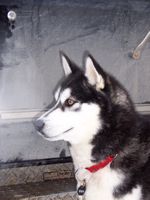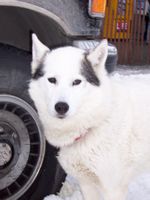 Gus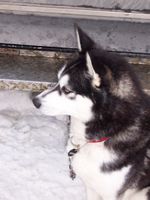 More photos of Kara—She's so photogenic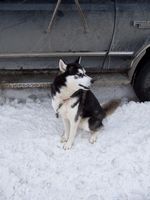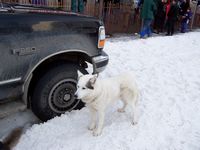 Gus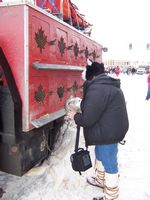 Peg Moore
Everyone loved her husky hat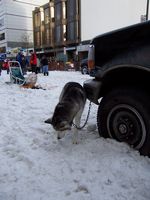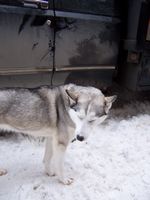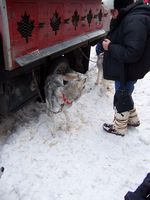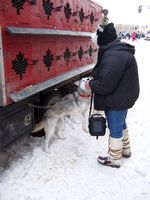 Peg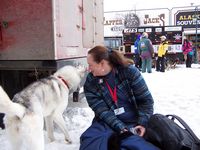 Sue- Karen's idita-rider from Missouri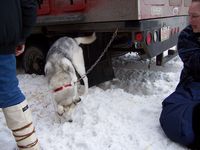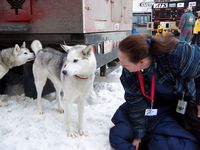 Sue making friends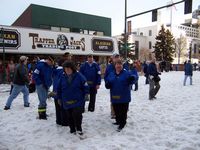 GETTING THE SLED READY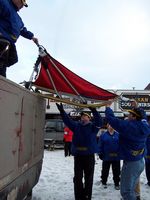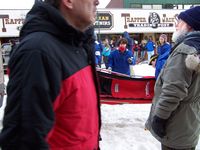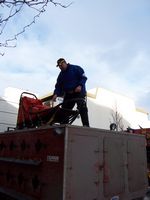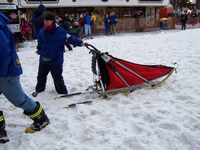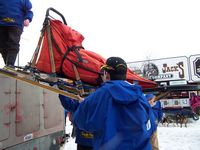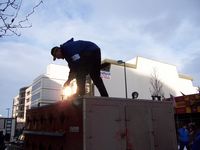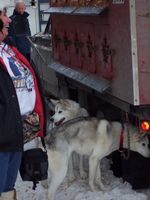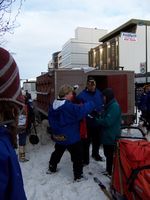 Karen visiting with friends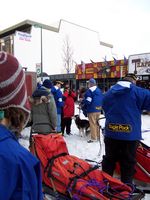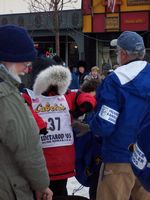 Where's Karen?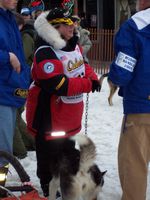 There she is!

KAREN AND KARA POSING FOR PICTURES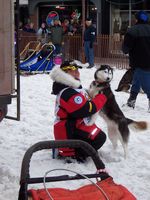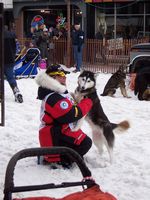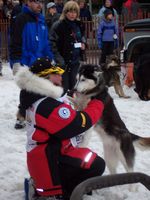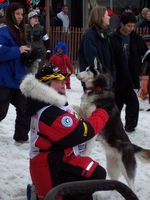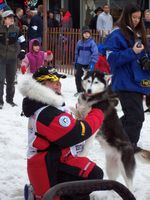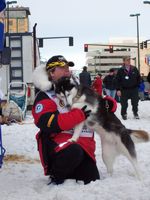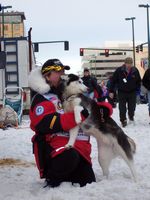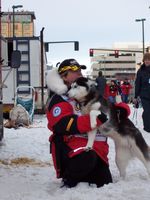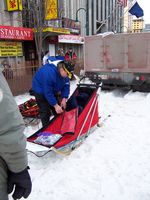 Mark getting the sled ready for the Idita-rider
He had cushions and blankets to make the ride comfortable.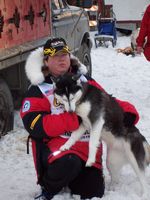 Karen and Kara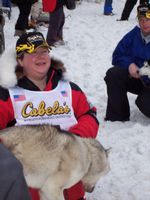 Karen and Loki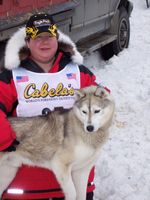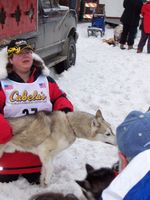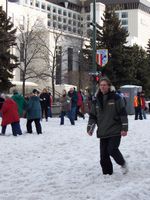 Stu Nelson- Head Vet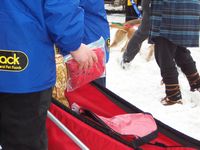 Getting the bandanas out to put on the dogs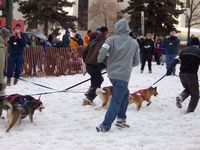 Jessica Royers team headed to the start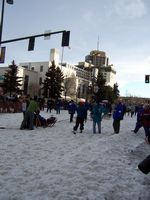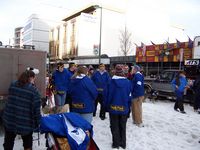 Karen and her handlers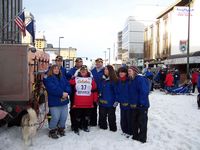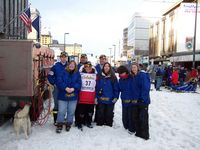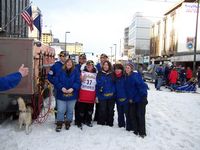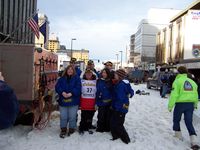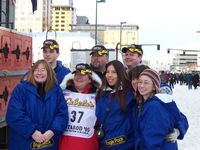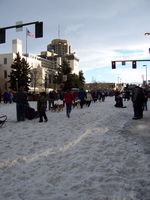 Another team headed down 4th ave.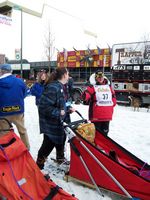 Sue trying out the sled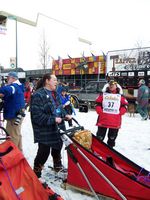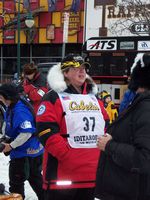 Karen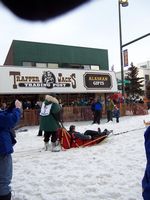 Another team going to the start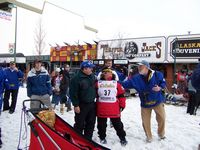 Karen and Doug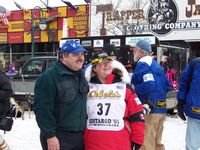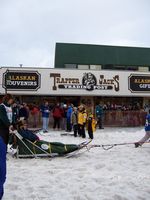 More passing teams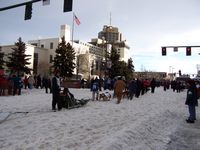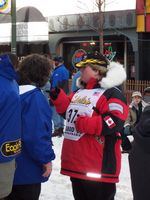 Karen and Jamie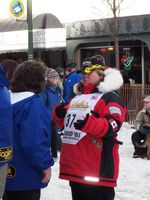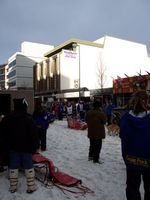 With each passing team- time to start is getting closer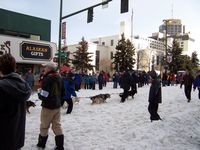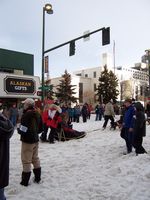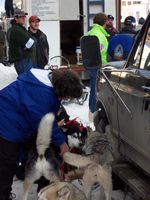 Jamie harnessing the dogs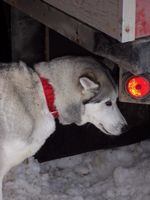 Time for Bandanas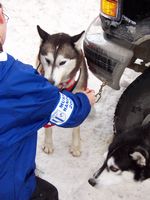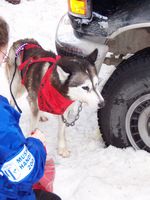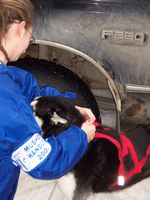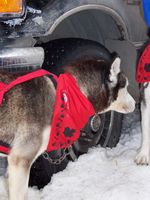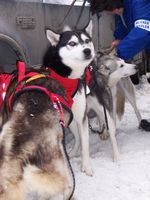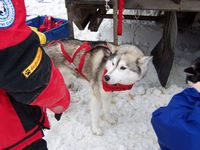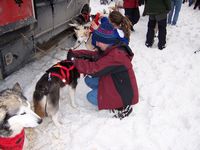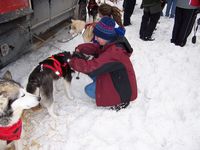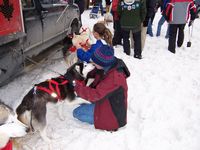 And a thank you kiss to Donna F from Kara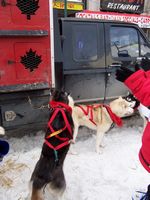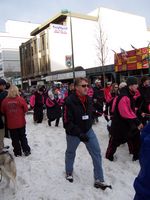 Rick Swenson's Team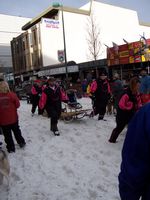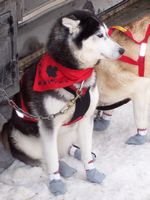 Aren't I beautiful????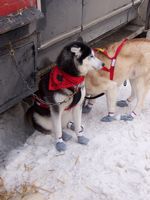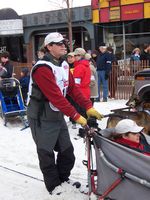 Perry Solomon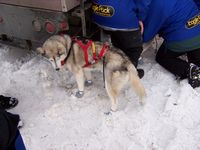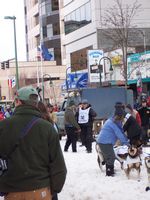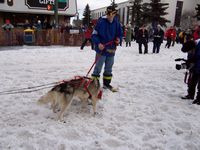 Hooking the dogs up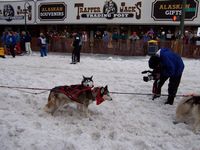 We're ready!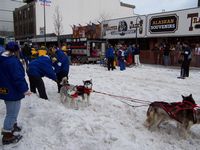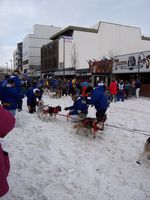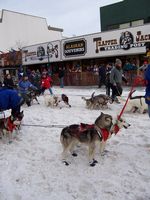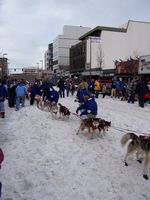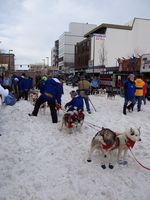 What's going on back there?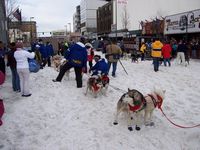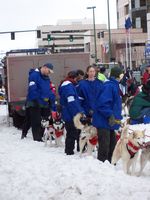 The handlers taking their places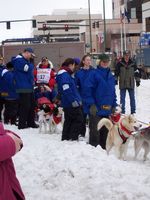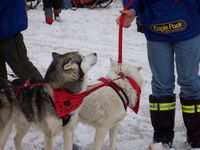 Can we go yet?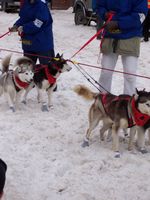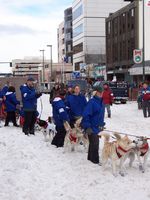 Waiting for permission to go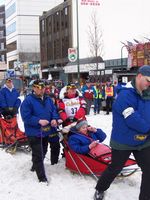 AND they're off to the start line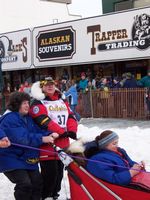 Karen, Jamie, and Sue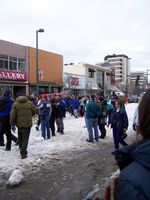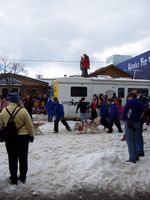 Continuing to the start line.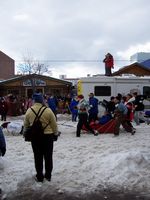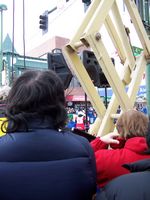 At the start line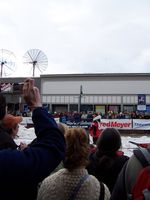 Karen's Off!!!!!