North Wapiti Siberian Husky Kennels
Gone...but not forgotten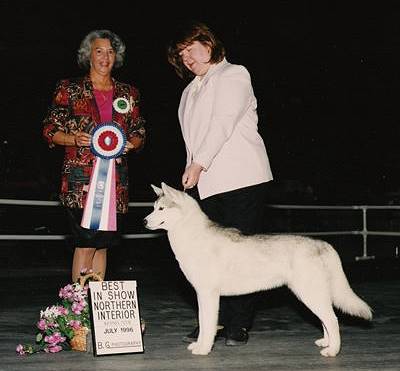 "BREEZY"
Multi BIS/Ch. Chuchinka's Dance In The Wind SDX
(Ch. Chuchinka's Sheen Jek SD x Chelyuskin's Mila SD)
October 10, 1992 - April 27, 2003

There are not many Siberians around that can match Breezy's achievements! She was a dynamic show dog, achieving multiple Group Placings and 2 All Breed Best in Show wins - always owner handled.

She was an excellent swing and lead dog on our team who retired from racing in April 2000. We are grateful to Bob and Loreen Bridges of Chuchinka Kennels for parting with Breezy, when even at 8 weeks of age, it was obvious she was something special!
Major Races
Iditarod (2000 - ceremonial start)
Knik 200 (1999 - finisher)
Race to the Sky (1996 - finisher)
Gold Rush Trail (multiple finishes)
Major Show Ring Wins
2000 - BOS, Canadian Rockies Siberian Husky Club Specialty
1999 - Award of Merit, Siberian Husky Club of Canada National Specialty
- Best Over Sleddog, Siberian Husky Club of Canada National Specialty
1996 - 1998 - over 14 Group placements including 2 All Breed Best in Shows
Current Working Status
Rainbow Bridge Brigade
Breezy's Photo Gallery
(click to enlarge image - hold mouse over image for description)


Click on the paws above to follow the team back to our main page...