North Wapiti Siberian Husky Kennels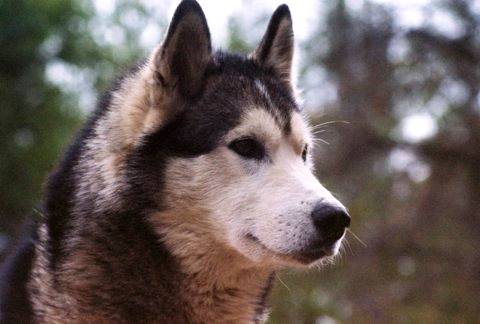 "DRACO"
FIVE TIME IDITAROD VETERAN
NorthWapiti's Draco - Born: November 5th, 1997
(NorthWapiti's Butch Cassidy SD x NorthWapiti's S.S. Minnow SDX)

Draco took his time maturing and we were worried that his easily distractible demeanor in harness (he would get distracted by falling leaves and butterflies in fall training) would make him unsuitable for serious racing.
In 2001, the last spot one the Iditarod team was between him and another veteran bitch, on the advice of Mark and Jamie Nelson, Karen choose Draco and never once regretted it - he was focused and hard working the entire Race. He is starting off this season with the same serious attitude! Although around the kennel he is still one of the most lovable! A definite favorite around here!
Major Races
Iditarod 2001 Finisher
Klondike 300
Iditarod 2003
Iditarod 2004 Finisher
Iditarod 2005
2005 Knik 200
2006 Knik 200
Iditarod 2006

Current Working Status
Race Veteran

Show Status
5 points
The "Constellation" Litter Pedigree
Draco's Photo Gallery
(click to enlarge image)


Click on the paws above to follow the team back to our main page...
Updated: October 6, 2007