North Wapiti Siberian Husky Kennels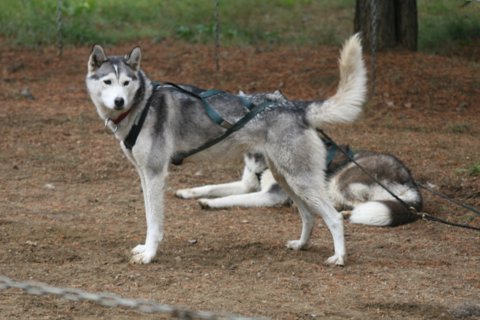 "JINX"
ONE TIME IDITAROD VETERAN
NorthWapiti's Jinx - Born: June 13th, 2003
(NorthWapiti's Super Grover & NorthWapiti's Kluane)

James Bond fans will figure out why this cute little black bitch, born on Friday the 13th was named 'Jinx'. Like her namesake, played by Halle Berry, this is one good looking gal.
Jinx's looks are entirely secondary to what she does in harness though. Drive and determination ooze out of her pores. As I expected in 2009 Jinx definitely stepped up to become one of the top lead dogs in the kennel. I expect her to be THE lead dog at NorthWapiti for years to come.
Major Races
2011 Eagle Cap 200, Rail Trail 200, Neckbone 120
2008 Iditarod, Sled Dog Days 100, Goose Bay 120
2006 Sheep Mtn 150, Knik 200

Current Working Status
Retired

Jinx's Photo Gallery & Pedigree
(click to enlarge image)
NorthWapiti's Super Grover

Meomar's Blunder

Meomar's Independence

Northome's Sayak At Spindrift
Meomar's Quick Lynx
Meomar's Cat Ballou

Meomar's Kwalaw Bear
Atim's Nicola
NorthWapiti's Ginger Grant

BIS/BISS Can. Ch. Chuchinka's Shawn Boy, SD

BIS/BISS Can. Ch. Shisaido's Satinkist Swordsman, CD
Chelyuskin's Mila, S.D.
Meomar's Miss Liberty

Northomes Sayak of Spindrift
Meomar's Quick Lynx
NorthWapiti's Kluane

Alaskan's Skookum of Anadyr

Alaskan's Snowstorm Of Anadyr
Alaskan's Jodi Of Anadyr
Alaskan's Snowflake Of Anadyr
Alaskan's Mandy Of Anadyr
Shjegge Manns Moose
Alaskan's Koe Of Anadyr
Alaskan's Kessa of Anadyr II

Alaskan's Solo Of Anadyr
Towmans Yakutat
Alaskan's Chanu Of Anadyr II
Alaskan's Nuliga Of Anadyr
Alaskan's Jafet Of Anadyr
Alaskan's Klondy Of Anadyr


Click on the paws above to follow the team back to our main page...