North Wapiti Siberian Husky Kennels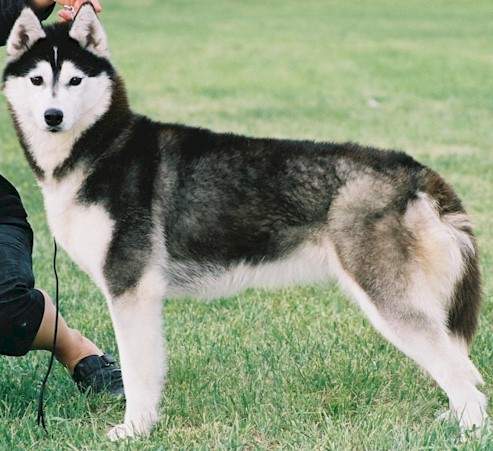 "KARA"
FIVE TIME IDITAROD VETERAN
Ch. NorthWapiti's Valkyrie Kara - Born: July 27th, 1999
(Tumnatki's Bosun NorthWapiti x Multi BIS Ch. Chuchinka's Dance in the Wind SDX)

I just don't know where to start in talking about Kara. She has excelled at everything she has tried her 'paw' at. From being my main leader from 2004 - 2008, to being a Group Placing Champion in the show ring, to
raising some of the best pups to ever come out of this yard - in my mind she is the perfect Siberian.

But most importantly, she is my best friend and constant companion. I am so blessed to be sharing my life with such a special soul.
Major Races
2007 Neckbone 120
2006 Sheep Mtn 150
Iditarod 2006
2006 Copper Basin 300
2006 Knik 200
2005 Sheep Mountain 150
2005 Copper Basin 300
Iditarod 2005
2005 Knik 200 Finisher
Iditarod 2004 Finisher
2003 Knik 200 Finisher
Iditarod 2003

Current Working Status
Race Veteran - Rainbow Bridge Member

Show Status
Group 3rd (Shirley Limoges)
Group 4th (F.M. (Butch) McDonald)
Offspring
with Chlout's Moses of Velikaya (Kelly, Kim)
with NorthWapiti's Sir Gallahad (TopDog, Beauty, Tie, Pitch)
with NorthWapiti's Super Grover (Wolvie, Wonder, Isis, Xena, Flash, Canuck, Ellie)
with NorthWapiti's Butch Cassidy, SD (Dasher, Dancer)
Kara's Photo Gallery & Pedigree
(click to enlarge image)
Tumnatki's Bosun NorthWapiti

Meomar's Faux Pas

Meomar's Independence

Northome's Sayak At Spindrift
Meomar's Quick Lynx
Meomar's Cat Ballou

Meomar's Kwalaw Bear
Atim's Nicola
Spindrift's Shulaces

Northome's Sayak At Spindrift

Northome's Spook, SD
Kuchin Ring Snowmist
Spindrift's Buttons
Kus-cama's Kanigylak
Spindrift's Baleena Of Atim
BIS Ch. Chuchinka's Dance In The Wind, SDX

Ch. Chuchinka's Sheen Jek, S.D.

BIS/BISS Can. Ch. Chuchinka's Shawn Boy, SD

BIS/BISS Can. Ch. Shisaido's Satinkist Swordsman, C.D.
Chelyuskin's Mila
Ch. BISS/BIS Chuchinka's Susitna Kiska

BIS/BISS Can. Ch. Shisaido's Satinkist Swordsman, C.D.
Can. Ch. Kanunik's Chuchinka's Sheena, C.D.
Chelyuskin's Mila

Atim's Trapper
Natomah's Kela
Can. Ch. Myotok's Alike of Atim
Chelyuskin's Promise
Kuchin's Rondevous Trigger
Alaskan's Yakutsk of Anadyr


Click on the paws above to follow the team back to our main page...