North Wapiti Siberian Husky Kennels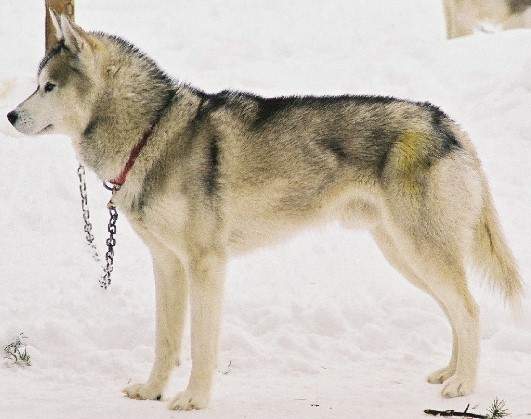 "ODIE"
FIVE TIME IDITAROD VETERAN
Northwapiti's Odin - Born: July 27th, 1999
(Tumnatki's Bosun NorthWapiti x Multi BIS Ch. Chuchinka's Dance in the Wind SDX)

Another one of the beautiful and talented Norse god and goddess litter. In harness, Odie has always been the star of this bunch. In '02 he was the only 2 year old to make our main race string and did a fabulous job on the John Beargrease Marathon.

He has continued to live up to his potential, finishing Iditarod in '04, '06 and '08, as well as many, many other races. Never dropped, never injured and never having an 'off' race. Hardworking to the core!
Major Races
2007 Taiga 300
2007 Iditarod
2007 Neckbone 120
2006 Iditarod Finisher
2006 Copper Basin 300
2006 Knik 200
2005 Iditarod
2005 Copper Basin 300
2005 Knik 200 Finisher
2005 Sheep Mountain 150
2004 Iditarod Finisher
2003 Iditarod
2002 John Beargrease Marathon

Current Working Status
Race Veteran - Retired
Offspring
with Chuchinka's San Antonio Rose (Lincoln, Holly, Batdog, Huck)
with Kelim's Sibersong McKinley (Quinn, Sully, Emma, Hank, Wolf, Cooper)
Odie's Photo Gallery & Pedigree
(click to enlarge image)
Tumnatki's Bosun NorthWapiti

Meomar's Faux Pas

Meomar's Independence

Northome's Sayak At Spindrift
Meomar's Quick Lynx
Meomar's Cat Ballou

Meomar's Kwalaw Bear
Atim's Nicola
Spindrift's Shulaces

Northome's Sayak At Spindrift

Northome's Spook, SD
Kuchin Ring Snowmist
Spindrift's Buttons
Kus-cama's Kanigylak
Spindrift's Baleena Of Atim
BIS Ch. Chuchinka's Dance In The Wind, SDX

Ch. Chuchinka's Sheen Jek, S.D.

BIS/BISS Can. Ch. Chuchinka's Shawn Boy, SD

BIS/BISS Can. Ch. Shisaido's Satinkist Swordsman, C.D.
Chelyuskin's Mila
Ch. BISS/BIS Chuchinka's Susitna Kiska

BIS/BISS Can. Ch. Shisaido's Satinkist Swordsman, C.D.
Can. Ch. Kanunik's Chuchinka's Sheena, C.D.
Chelyuskin's Mila

Atim's Trapper
Natomah's Kela
Can. Ch. Myotok's Alike of Atim
Chelyuskin's Promise
Kuchin's Rondevous Trigger
Alaskan's Yakutsk of Anadyr


Click on the paws above to follow the team back to our main page...