North Wapiti Siberian Husky Kennels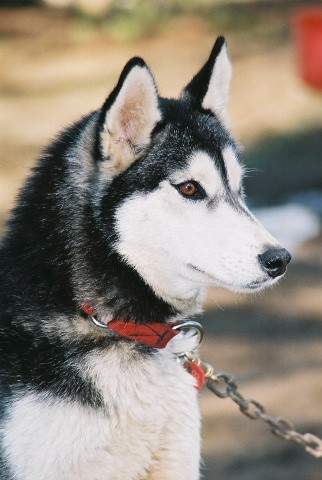 "OLENA"
FOUR TIME IDITAROD VETERAN
Alaskan's Olena of Anadyr - Born: July 28th, 2000
(Alaskan's Meekur of Anadyr x Alaskan's Yakut of Anadyr II)

Dominant, outspoken, opinionated, and EVIL are probably the most often used words to describe Olena. Yet, despite it - well, probably because of it, she is among my very favorites in the yard. She is a dog full of contradictions - ridiculously confident and hard driving - very sweet and loving to people - and a fabulous Mom to her pups.

She has never managed to finish an Iditarod with me, but she is a asset to any team she is a member of for any time she is in it. She is absolutely DRIVEN in harness. But perhaps her greatest contribution to the kennel is the next generation she is providing us with. Her children are some of the brightest stars in the future of the kennel.
We are so grateful to Natalie for selling this sparkplug to us!
Major Races
2007 Taiga 300
2007 Iditarod
2006 Sheep Mtn 150
Iditarod 2006
2006 Knik 200
2005 Copper Basin 300
2005 Knik 200 Finisher
2005 Sheep Mountain 150
Iditarod 2004
Iditarod 2003

Current Working Status
Race Veteran
Offspring
with Ch NorthWapiti's Crunchie (Turtle, Smartie, Peeps, Chiclet, Twizzler, Skittles, Bean)
with NorthWapiti's Sir Gallahad (Charge, Watt, Tess, Sparky, Spike)
with NorthWapiti's Robert E Lee (X, Paxson, Tazlina, Summit, Tolsona)
with Chlout's Moses of Velikaya (Astro, Tramp, Bolt, Grimmy, Skookum, Snert, Underdog)
Olena's Photo Gallery
(click to enlarge image)
Alaskan's Meekur of Anadyr
Alaskan's Sergei of Anadyr
Alaskan's Blackjack of Anadyr
Alaskan's Baridia of Anadyr
Alaskan's Rebel of Anadyr
Alaskan's Gray Mouse of Anadyr
Shjegge Mann's Moose
Alaskan's Fluff of Anadyr
Alaskan's Lippy of Anadyr
Alaskan's Tokon of Anadyr II
Alaskan's Nic of Anadyr
Alaskan's Ava of Anadyr
Alaskan's Chenega of Anadyr
Alaskan's Peluk of Anadyr
Alaskan's Chena of Anadyr
Alaskan's Yakut of Anadyr II
Towman's Yakutat
Rix's Stormy O'Buckhorn
Kelson's Elko
Rix's Big of Arctic Trail
Alaskan's Chevak of Anadyr
Okiotak's Alaska of Alashak
Alaskan's Cheenan of Anadyr
Yeso Pac's Joni of Anadyr
Yeso Pac's Satan
Igloo Pak's Jan
Wendy
Yeso Pac's Carolyn
The Evil One of Yeso Pac
Yeso Pac's Charlene


Click on the paws above to follow the team back to our main page...