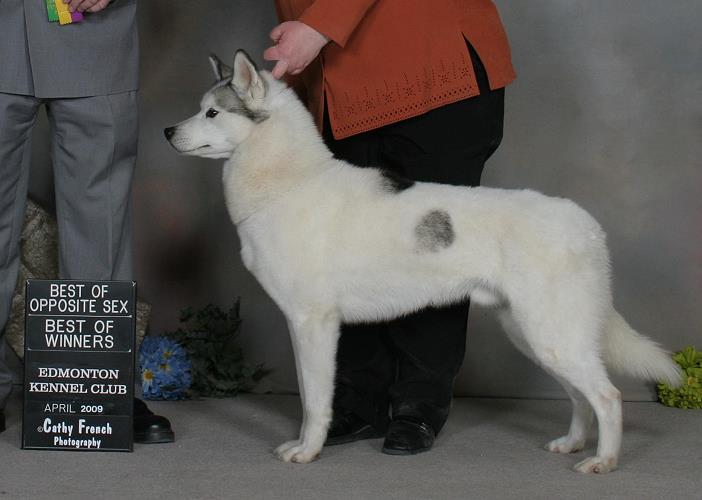 "Q"
ONE TIME IDITAROD VETERAN
Ch. NorthWapiti's Q - Born: June 13th, 2003
(NorthWapiti's Super Grover & NorthWapiti's Kluane)

Q is a big, powerful male with the heart of a pussycat. Very friendly and affectionate, but with the quiet, single mindedness that characterized his father. Already a veteran of many races, watch for him being in front of our teams lots more in the years to come.
He is exactly the kind of boy this kennel is striving to produce.
Major Races
2011 Eagle Cap 200, Rail Trail 200, Percy de Wolfe Memorial 210, Neckbone 120
2008 Iditarod Finisher, Goose Bay 120, Seeley Lake 200
2007 Neckbone 120
2006 Sheep Mtn 150, Knik 200

Current Working Status
Race Veteran (Retired)
Offspring
with NorthWapiti's Rainy (Snitch, Sirius, Anya, Lumos, Seeker, Phoenix, Jinks)
with NorthWapiti's Sprite (Casey, Finnegan)
Q's Photo Gallery & Pedigree
(click to enlarge image)

NorthWapiti's Super Grover

Meomar's Blunder

Meomar's Independence

Northome's Sayak At Spindrift
Meomar's Quick Lynx
Meomar's Cat Ballou

Meomar's Kwalaw Bear
Atim's Nicola
NorthWapiti's Ginger Grant

BIS/BISS Can. Ch. Chuchinka's Shawn Boy, SD

BIS/BISS Can. Ch. Shisaido's Satinkist Swordsman, CD
Chelyuskin's Mila, S.D.
Meomar's Miss Liberty

Northomes Sayak of Spindrift
Meomar's Quick Lynx
NorthWapiti's Kluane

Alaskan's Skookum of Anadyr

Alaskan's Snowstorm Of Anadyr
Alaskan's Jodi Of Anadyr
Alaskan's Snowflake Of Anadyr
Alaskan's Mandy Of Anadyr
Shjegge Manns Moose
Alaskan's Koe Of Anadyr
Alaskan's Kessa of Anadyr II

Alaskan's Solo Of Anadyr
Towmans Yakutat
Alaskan's Chanu Of Anadyr II
Alaskan's Nuliga Of Anadyr
Alaskan's Jafet Of Anadyr
Alaskan's Klondy Of Anadyr