North Wapiti Siberian Husky Kennels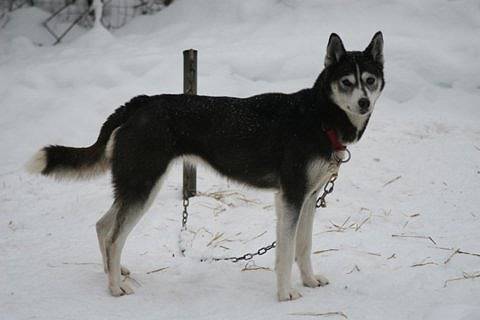 "Spider"
TWO TIME ITIDAROD VETERAN!
Tumnatki's Ms Muffet of NWapiti - Born: September 22nd, 2003
(Tumnatki's Comet x NorthWapiti's KitKat)

Spideypants, as she is most often called (no, I have no idea why), is a lovely young girl. I've always been impressed by how light she is on her feet.
Spider has stepped up and worked her way to the front of our main string. She was given the honor of being one of the leaders choosen for the re-start of the 2007 Iditarod. Quite an privilege for a rookie Iditarod dog. We are certain she will lead the team in many important races to come.
Major Races
2008 Iditarod
2008 Goose Bay 120
2008 Seeley Lake 200
2007 Taiga 300
2007 Iditarod
2007 Neckbone 120

Current Working Status
Veteran
Spidey's Photo Gallery
(click to enlarge image)


Click on the paws above to follow the team back to our main page...
Updated: April 2, 2008