North Wapiti Siberian Husky Kennels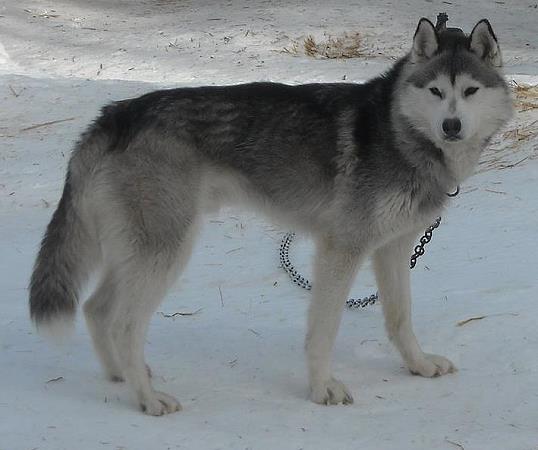 "UTIN"
NorthWapiti's Utin - Born: May 11th, 2007
(NorthWapiti's Skor & NorthWapiti's Kluane)

Utin is the Cree word for "a strong wind before a storm". And Utin is already living up to that! When the 'Cree' litter was a few months old, my friend Lisa Wright (www.trainingwithouttrying.com) came over and evaluated all the pups looking for the best obedience prospect for me. Utin was HANDS DOWN her pick (She still adores him and he still adores her. He does handstands whenever he sees her. Helps that his best bud on the planet is Lisa's Aussie, Bruce).

Utin is still young, but he is already showing that he is going to be one of those extra special ones. We are completely enjoying our obedience and rally training; he is great with cats and puppies; and he is one definitely my best yearling in harness right now. This is one VERY special boy!
Utin lives with Kim & Kelly Berg of Kelim Siberians
Major Races
2011 Eagle Cap 200, Canadian Challenge 320, Rail Trail 200, Percy de Wolfe Memorial 210, Neckbone 120

Current Working Status
Race Veteran

Utin's Photo Gallery
(click to enlarge image)


Click on the paws above to follow the team back to our main page...
Updated: March 41, 2011