Takotna to Ophir
I know that some mushers charge for their Iditarod journals or only tell the tales in books, but I feel so much gratitude and thanks to all of you who support and follow our adventures that I think I owe all of you these stories.
As you read these entries, I ask you all to remember that none of it could have happened without the support and interest of each one of you.
Please never underestimate how thankful I am.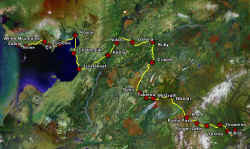 I got the dogs all checked out by the fabulous vet crew – which included both Markus and Denny. Everyone was looking pretty good, just a very few minor issues here and there. I took the dogs' harnesses off – a signal to the them that they are going to get a nice long rest here, and got straw laid out. This year Mark and I decided to mail a bale of straw out to Takotna on our own – totally within the rules – and now I had lots and lots of straw for the dogs to bed down in. A special treat easily worth the trouble and expense!! I didn't feed the dogs right away, as I felt maybe I had been overfeeding them a bit in the past years on our 24, so I let them nap for a couple hours before offering food. It worked super and when I did offer food, they were very keen to eat! Also, after sorting a bit of gear out around my sled, I was able to run down to the checkpoint building, use the washroom and grab something to eat before heading back up to get a meal ready for them.
After they were all snoring in the straw under their checkpoint blankets on full bellies, I headed up to the church to sleep.
The church was wall-to-wall people, but I managed to find a spot to hang gear and a bit of space to stretch out under a table.
The rest of my 24-hour layover passed pretty uneventfully. I fed and cared for dogs, slept, ate, grabbed a wonderful hot shower, visited, called Mark, sorted and repacked gear - all good. Finally it was time to head out.
The temperature had been dropping throughout the day and by the time I left the warm hospitality of Takotna at 1 minute past midnight, it was plain and simple – COLD!
The dogs liked it though and left town strong. I stood on the drag for a long while, not wanting them to overextend themselves after their break.
When I left Takotna, I hadn't really decided whether or not I was going to stop in Ophir – or go straight through like in '04. I could feel the cold seeping into my clothing, so I knew the thermometer must have taken a real nose dive – and that was what ended up making the decision for me. With it being in the 'extreme' cold range, I felt not only did I not want to camp for 6 hours on the trail (we were still going to camp on the way over to Cripple, just for 4 hours instead of 6), but also I wanted to make extra sure that the dogs were kept well fed and hydrated.
So stop we did!
Karen
Updated: Friday 5:06am AST
Pos

Musher

Checkpoint

Time In

Time Out

Dogs

Rest

Travel

Previous
Checkpoint

Previous
Time Out

Speed

Status

1

Ruby

3/10 00:05:00

15

10:17

Cripple

3/09 13:48:00

10.90

24 8

2

Cripple

3/09 14:45:00

3/09 22:45:00

16

8:00

7:54

Ophir

3/09 06:51:00

7.60

24 8

3

Cripple

3/09 23:30:00

3/09 23:40:00

13

0:10

5:39

Ophir

3/09 17:51:00

10.60

24 8

48

Ophir

3/09 18:45:00

3/09 22:41:00

14

3:56

2:23

Takotna

3/09 16:22:00

16.00

24 8

54

3/10 02:52:00

14

2:51

Takotna

3/10 00:01:00

13.30

24 8