Ophir to Cripple
I know that some mushers charge for their Iditarod journals or only tell the tales in books, but I feel so much gratitude and thanks to all of you who support and follow our adventures that I think I owe all of you these stories.
As you read these entries, I ask you all to remember that none of it could have happened without the support and interest of each one of you.
Please never underestimate how thankful I am.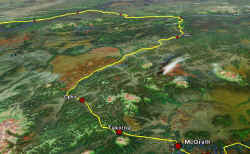 Well, truth be told, where Takotna may be musher paradise, Ophir is pretty much the opposite. The cabin, which is the checkpoint building, is owned by a private individual who doesn't seem very fond of mushers. He would certainly prefer that none of us come inside his cabin and god forbid if one of us should try and grab a couple winks of sleep in there. A couple years back Iditarod built a nice little bunkhouse at Ophir, but it is always crowded with vets, pilots and race volunteers.
Of course, the race vets and volunteers are still a terrifically friendly lot, but they are kind of 'stuck' due to the attitude of the owner.
Lucky for me, said owner was either asleep or away when I was there and after feeding dogs, I was able to sneak in the cabin to warm up for a bit. Seeing that it was –40° F outside, that was very appreciated!
A couple other mushers were in warming up too. We were all discussing how long a break we were going to take here. When I was asked, I said I had to leave. "Had to leave?" I went on to explain that last year, all I did was complain about the heat and moan about wanting it to get cold. Now that it was doing exactly that, I would lose all credibility and my husband would never let me live it down if I sat inside a cabin and shivered through the cold temperatures.
So, at 6am, probably the coldest darn part of the day, wearing just about every piece of clothing I had brought with me, the team and I left for the long hike over to Cripple.
The dogs were jazzed by the cold and rolling along really, really well. Even with the temps hanging out below –40° F, I'd be lying if I said I wasn't having a good time.
I was traveling on and off with three other mushers, two very nice men and the guy that berated me for picking a bad spot to 'block the trail' on the way into Rainy Pass. I was behind him at one point when he began to dig around in his pockets for something, taking off his big overmitts. One of them bounced off his moving sled and into the snow without his noticing. I yelled a couple times, but he didn't hear me, so I stopped and picked up the mitt. It took about a 1/2 mile, but finally he started frantically digging through his sled bag and then slammed on the brake. Losing a glove is a big deal in those temperatures and sadly, nothing to play around with. I held it up as my team passed his and he gratefully took it back, showing more graciousness than I expected by saying 'Thanks'.
The trail over to Cripple is 'big'. Low, rolling hills with scrub trees that you can see for miles and miles over. It is as vast and desolate as any landscape I have ever been in. I find it as challenging as the Yukon River, as each rolling hill offers the promise of something new over it, yet dashes those hopes when you crest it to find only more and more hills.
At about 11 am, I found a nice abandoned camping spot with leftover straw and pulled over. I cooked the dogs a warm meal and they devoured every bite of it. It was still cold, but the midday sun made it bearable at least. I busied myself cleaning my sled bag up, but since I had just done that in Takotna, it wasn't too bad. I sat on my cooler and read a bit of my book, but it was too cold to stay still for too long. Finally the dogs all began to wake up and fuss around, a good sign it was time we could get moving again.
Camping on the way to Cripple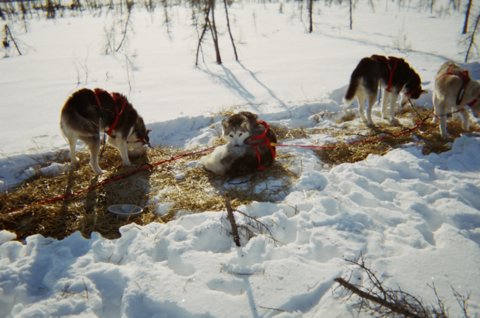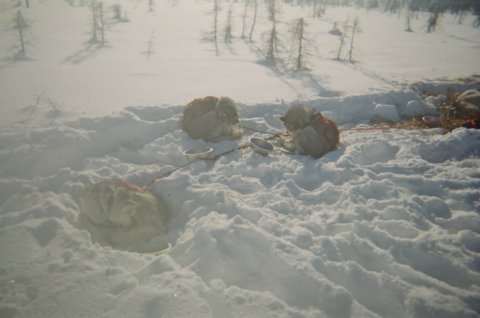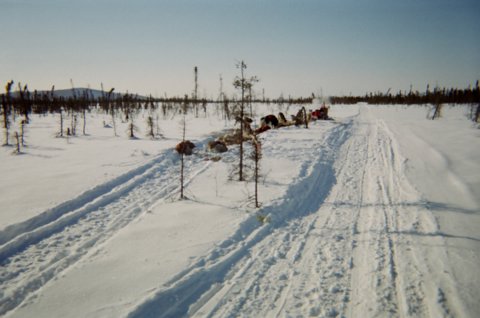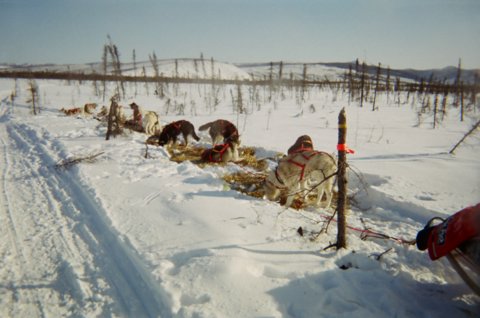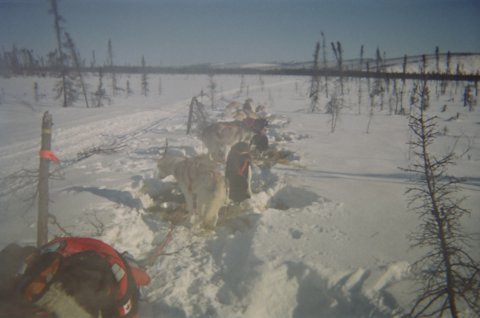 I tossed everyone a snack for the road, packed up the sled and got moving.
The trail gets a little more interesting to drive after the halfway point of the run. Nothing particularly challenging, but the dips and valleys offer some nice variety.
I had been swapping leaders throughout the race, but more and more now Snickers was finding herself in lead. As was the case for much of the season, the chicks in the team were the ones that seemed to be shining the most for me up front, although Jr, Moses, and Skor had all been doing their share too.
Overall I was very pleased with the team. They were running reasonably well, resting great, and best of all, eating fantastic. I was quite convinced that our goal for this race - an under 12-day race - was well within reach.
The sun started to sink as we got closer to Cripple and the the cold air began to look for weaknesses in my clothing. Thankfully it was having trouble finding any!
It was about 8:30 in the evening when we hit Wolf Kill Slough and the checkpoint of Cripple.
Karen
Updated: Saturday 7:14am AST
Pos

Musher

Checkpoint

Time In

Time Out

Dogs

Rest

Travel

Previous
Checkpoint

Previous
Time Out

Speed

Status

1

Galena

3/10 22:09:00

3/11 03:28:00

15

5:19

6:08

Ruby

3/10 16:01:00

8.50

24 8

2

Galena

3/10 15:34:00

15

7:00

Ruby

3/10 08:34:00

7.40

24 8

3

Galena

3/11 01:40:00

15

5:55

Ruby

3/10 19:45:00

8.80

24 8

4

Galena

3/11 03:18:00

13

6:09

Ruby

3/10 21:09:00

8.50

24 8

5

Galena

3/11 05:18:00

14

6:04

Ruby

3/10 23:14:00

8.60

24 8

6

Galena

3/11 05:20:00

14

6:20

Ruby

3/10 23:00:00

8.20

24 8

35

Ruby

3/11 03:10:00

14

9:55

Cripple

3/10 17:15:00

11.30

24 8

51

3/10 20:35:00

3/11 05:18:00

14

8:43

14:35

Ophir

3/10 06:00:00

4.10

24 8