North Wapiti Siberian Husky Kennels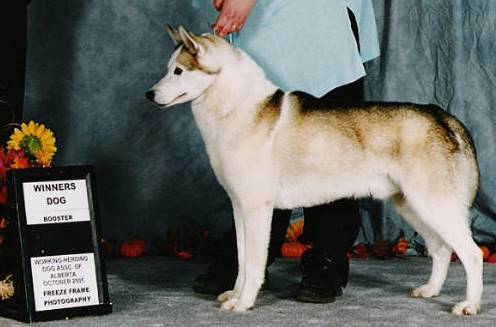 Nik winning 2 pts under Susan Quesnel - (Click for full version)
"NIK"
TWO TIME IDITAROD VETERAN
Ch. Chuchinka's Nikolai 2nd - Born: October 3rd, 1997
(Ch. Chuchinka's SheenJek SD x WhiteValley's Winter Serenade)

Honestly, Nik is an annoying dog to live with. His loud, outspoken and piercing vocabulary have earned him some, not so favorable nicknames in the kennel. We love him anyway though and he more then makes up for his bad traits with his fearlessness and tremendous work ethic!
Major Races
Iditarod 2001 Finisher
Grand Portage 300
Iditarod 2003

Current Working Status
Retired/Puppy Trainer

Show Status
NEW CHAMPION!

Nik's Photo Gallery
(click to enlarge image - hold mouse over image for description)


Click on the paws above to follow the team back to our main page...