North Wapiti Siberian Husky Kennels
Where are they now...?
"SAM"
NorthWapiti's Samhu Ice - Born: May 4th, 1994
(Ch. The Professor of NorthWapiti CD, SDU, TT x Silver Wind)

Sam now lives with Lee and Jim DesJardins of Ancaster, Ontario and enjoys the life of a retired sled dog as he "works" along the beach dog with his NorthWapiti pal Slik.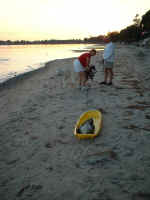 Click on the paws above to follow the team back to our main page...