North Wapiti Siberian Husky Kennels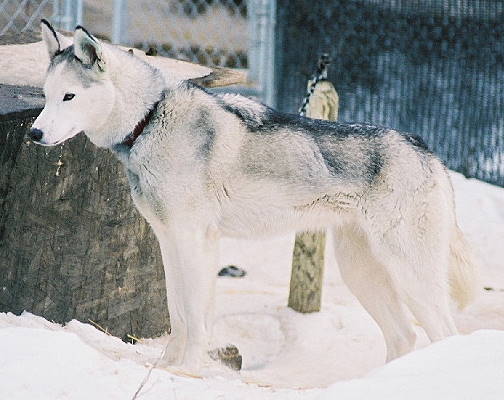 "NAHANNI"
ONE TIME IDITAROD VETERAN
NorthWapiti's Nahanni - Born: May 27th, 2000
(Alaskan's Skookum of Anadyr x Alaskan's Kessa of Anadyr II)

Nahanni is beautiful - and one of the nuttiest Siberians around. With her weird little fears (like she is scared of her empty food dish) and quirks, she would be spending her live in therapy if she were a human. However, she is a Siberian and therapy for her seems to be working in harness. She is never so relaxed and confident anywhere as she is on the trail. A very hard worker too!
Major Races
2008 Goose Bay 120
2008 Sled Dog Days 100
Iditarod 2003
2005 Copper Basin 300
2005 Knik 200
2006 Knik 200

Current Working Status
Race Veteran
The "National Park" Litter Pedigree
Nahanni's Photo Gallery
(click to enlarge image)


Click on the paws above to follow the team back to our main page...
Updated: October 3, 2007