North Wapiti Siberian Husky Kennels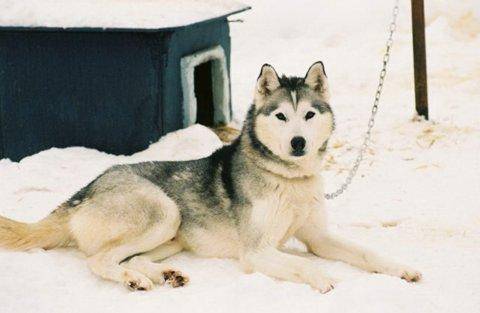 "SKOR"
NorthWapiti's Skor- Born: June 6th, 2001
TWO TIME IDITAROD VETERAN
(NorthWapiti's Super Grover x Northome's Visa)

Big, gentle and handsome best describe Skor. He took longer to mature then his brother Crunchie, but last year got to prove himself on the Iditarod. Out of all our Grover offspring, this one is the most like his Dad in terms of personality. He brings the same seriousness and quiet pride in his job as a leader to harness - he's a solid leader and hard driving team dog.
Skor now lives with Kim & Kelly Berg of Kelim Siberians in New Hampshire.
Major Races
Iditarod 2005
2005 Sheep Mountain 150
2006 Knik 200
2006 Copper Basin 300
Iditarod 2006

Current Working Status
Race Veteran
Skor's Photo Gallery
(click to enlarge image - hold mouse over image for description)
The "Chocolate Bar" Litter Pedigree


Click on the paws above to follow the team back to our main page...