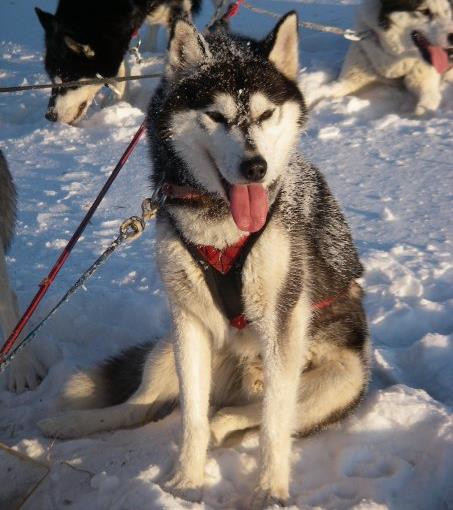 NORTHWAPITI'S WOLVERINE - "WOLVIE"
Born: August 1st, 2005

Wolvie gets more handsome and more loved as each day goes by. He was the pup that most displayed that serious, no nonsense, 'Grover' approach to life - and now, as he is growing, his father seems to be coming out in his conformation too. I think he is the pick out of the amazing Super Hero litter.
Major Races
2011 Eagle Cap 200, Rail Trail 200, Percy de Wolfe Memorial 210, Neckbone 120

Current Working Status
Race Veteran - (Retired)
Wolverine's Photo Gallery & Pedigree
(click to enlarge image)
NorthWapiti's Super Grover

Meomar's Blunder

Meomar's Independence

Northome's Sayak At Spindrift
Meomar's Quick Lynx
Meomar's Cat Ballou

Meomar's Kwalaw Bear
Atim's Nicola
NorthWapiti's Ginger Grant

BIS/BISS Can. Ch. Chuchinka's Shawn Boy, SD

BIS/BISS Can. Ch. Shisaido's Satinkist Swordsman, CD
Chelyuskin's Mila, S.D.
Meomar's Miss Liberty

Northomes Sayak of Spindrift
Meomar's Quick Lynx
Ch. NorthWapiti's Valkyrie Kara

Tumnatki's Bosun NorthWapiti

Meomar's Faux Pas

Meomar's Independence
Meomar's Cat Ballou
Spindrift's Shulaces

Northome's Sayak At Spindrift
Spindrift's Buttons
Chuchinka's Dance In The Wind, SDX

Chuchinka's Sheen Jek

BIS/BISS Can. Ch. Chuchinka's Shawn Boy, SD
Can. Ch. BISS/BIS Chuchinka's Susitna Kiska
Chelyuskin's Mila

Atim's Trapper
Chelyuskin's Promise