North Wapiti Siberian Husky Kennels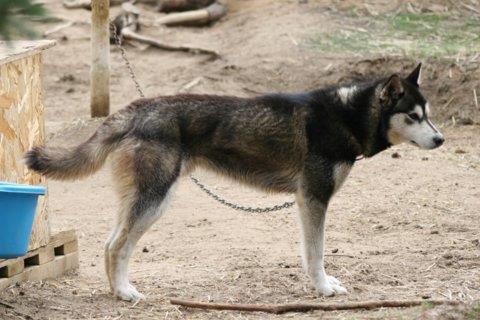 "WATT"
August 2, 2004 - August 24, 2009
ONE TIME ITIDAROD VETERAN!
NorthWapiti's MegaWatt - Born: August 2nd, 2004
(NorthWapiti's Sir Gallahad x Alaskan's Olena of Anadyr)

I think the best way to describe Watt is to mention that friends of ours offered us more money for Watt then we have ever been offered for a dog. I didn't even have to consult Mark or think about it for a second before saying 'NO'. As Mark said when I talked to him about it later "There are some things that money just can't buy".
This boy is everything I want to see in a Siberian – the standard in flesh and fur.
AUGUST 24, 2009 - It's been a long time since I had to write one of these for one of our Siberians. I expected it to be for one of the geriatrics, not one of the best main string dogs I own – but life doesn't always roll the way you expect or want it to.

This morning, very quickly and unexpectedly Watt passed away. I had taken him to the vet because things just weren't 'right' with him. I was thinking that he had injured his back or neck, as he was showing no signs of illness (no vomiting, loose stools, was eating, etc, etc), just some general stiffness and soreness. While they were attempting to get blood from him, he 'crashed' and they were unable to resuscitate him.
It is looking like he may have had some kind of bacterial infection. We will know more after his necropsy this afternoon.

I have having trouble wrapping my head around this. It doesn't seem possible. Watt was just 5 years old and one of the best dogs in the yard. He had already accomplished a lot with us and he held the promise of so much more. I had been working a lot with him in lead and it was looking like it was something he was going to excel at.

I wish we could have had a longer trail to travel together…
Major Races
2008 Iditarod Finisher
2008 Goose Bay 120
2008 Seeley Lake 200
2006 Sheep Mtn 150

Current Working Status
Race Veteran
Offspring
with NorthWapiti's Sprite (Boo, Rocky, Wired, Jolt, Sobe)
Watt's Photo Gallery & Pedigree
(click to enlarge image)
NorthWapiti's Sir Gallahad
NorthWapiti's Butch Cassidy, SD

CH. The Professor of NorthWapiti, SDU, CD, TT

BIS/BISS Can. Ch. Chuchinka's Shawn Boy, SD
Meomar's Miss Liberty
Meomar's Sunshine Coast Orca

Meomar's Ojibawa
Meomar's Guildenstern
NorthWapiti's Ginger Grant

BIS/BISS Can. Ch. Chuchinka's Shawn Boy, SD

BIS/BISS Can. Ch. Shisaido's Satinkist Swordsman, CD
Chelyuskin's Mila, S.D.
Meomar's Miss Liberty

Northomes Sayak of Spindrift
Meomar's Quick Lynx
Alaskan's Olena of Anadyr

Alaskan's Meekur of Anadyr

Alaskan's Sergei of Anadyr
Alaskan's Blackjack Of Anadyr
Alaskan's Gray Mouse of Anadyr
Alaskan's Lippy of Anadyr
Alaskan's Tokon of Anadyr II
Alaskan's Chenega of Anadyr
Alaskan's Yakut of Anadyr II

Towman's Yakutat
Rix's Stormy O'Buckhorn
Alaskan's Chevak of Anadyr
Yeso Pac's Joni of Anadyr
Yeso Pac's Satan
Yeso Pac's Carolyn


Click on the paws above to follow the team back to our main page...