North Wapiti Siberian Husky Kennels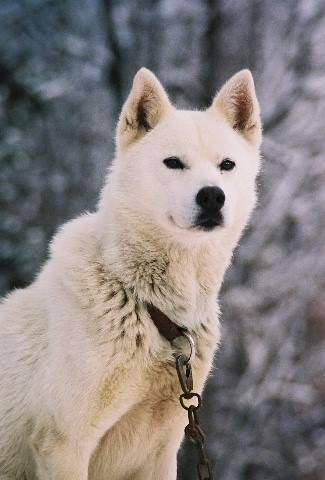 "MOSES"
FIVE TIME ITIDAROD VETERAN!
Chlout's Moses of Velikaya - Born: January 1st, 2000
(Smokey II Of Velikaya x Buffy Of Velikaya)

Moses came home with us from Alaska in March of '03. We are very grateful that his former owner, Bob Chlupach, was so insistent that we take him, as he is a valued and adored part of our team now!

In his prime, pretty much everyone that rode with our team commented on Moses - his hard driving, never quit attitude was hard to overlook. Now he is producing us some outstanding puppies to follow in his footsteps.

He has a big list of fans - with Mark and I at the top of it.
Major Races
2008 Iditarod Finisher
2008 Goose Bay 120
2008 Seeley Lake 200
2007 Iditarod
2007 Neckbone 120
2006 Sheep Mtn 150
Iditarod 2006 Finisher
2006 Knik 200
Iditarod 2005
2005 Knik 200 Finisher
2005 Copper Basin 300
2005 Sheep Mountain 150
Iditarod 2004 Finisher
Yukon Quest 250 (with another musher)

Current Working Status
Race Veteran - Retired
Offspring
with Chuchinka's San Antonio Rose (Rainy, Boom, Lightning, Thunder, Blaze)
with Ch NorthWapiti's Valkyrie Kara (Kelly, Kim)
with Alaskan's Olena of Anadyr (Astro, Tramp, Bolt, Grimmy, Skookum, Snert, Underdog)
Moses's Photo Gallery & Pedigree
(click to enlarge image)


Click on the paws above to follow the team back to our main page...